Teaching statement for high school students
Science Teaching Philosophy for High School Students
I aim to teach scientific concepts using real world examples and in-class experiments; I hope students will learn that scientific processes occur around them each day. I believe science teachers have the unique responsibility to not only introduce new concepts, but to give students the tools to view the world with a deeper understanding of the physics, biology, and chemistry in their everyday lives.
Therefore, the main objectives of my teaching philosophy are for students to:
(1)
apply fundamental scientific concepts to real-world scenarios, (2) analytically review scientific claims, (3) learn scientific concepts through hands-on experiments and demonstrations, and (4) develop effective scientific communication strategies.
Applying fundamental scientific concepts to real-world scenarios: At the start of each week, I will ask students to find a current news article about a scientific concept we covered the week prior. For example, if I were to teach a chemistry course, students could find articles about particulate pollution, artificial coloring in foods, or an article about the creation of a new pesticide. We will hold a peer discussion and talk about some of the implications of chemistry in the world around them.
Providing foundational skills to analytically review scientific claims: The ability to examine and think critically about how a study tests predictions and draws conclusions is essential for any scientific field. It is necessary for students to be able to draw conclusions from small experiments while understanding broader implications of the research. To effectively teach students how to carefully critique the literature and news articles about scientific discoveries and advancements, and assess broader impacts of research, I will discuss one scientific paper with them each month. The students will read the article as a class, and we will break the paper down section-by-section. At the end of the semester, I will require introductory science students to choose and evaluate one scientific paper relevant to topics covered in the course. I will then ask students to present their work to the class. I will work with group of students on selecting an article, accessing it online, and presenting what they have learned.
Learning scientific concepts through hands-on experiments and activities: The ability to see scientific processes happening in real time may promote a better comprehension of material. If I have the opportunity to teach a science course, I will have weekly in-class experiments, even if I do not have a designated lab section. Students will have the opportunity to review topics covered in lecture through completion of a pre- and post-lab. Students will not only learns scientific concepts, but how to troubleshoot situations and learning that science doesn't always work perfectly.
Developing effective communication strategies: Often times the ability to communicate scientific concepts in a concise manner is not a focus of high school science courses. If I am afforded the opportunity to teach a science course, I will ask students to present one relevant topic of their choice to their peers. This will promote both a deeper understanding of the material presented in class and the ability for students to communicate their understanding of the material to their peers.
Powered by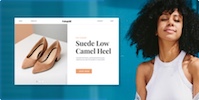 Create your own unique website with customizable templates.